Cutting Edges

Acme Rigging & Supply can handle all your cutting edge and other ground engagement needs.
From loaders and dozers to scrapers and land planes, we can handle it. We are not only a stocking dealer for Black Cat Blades, but we also can build custom edges to your specifications. Whether it's ½ inch think or up to 2 inch thick, simple carbon plate or heat treated material, Acme Rigging has what you need to get the job done right.
Carbide impregnation and hard facing is another service offered by Acme Rigging. The application of carbide can greatly extend the service life of not only cutting edges, but also other items such as teeth and ripper shanks. The extreme abrasion resistance of carbide can extend the service life of ground engagement parts by as much as thirty percent.
For custom or obsolete edges, please print a copy of our "Custom Made Edges" work order form, then simply fax, or mail it to us. Don't forget to include your contact information so we can process your order as quickly as possible. If you have questions, please free to call and talk to one of our knowledgeable staff members.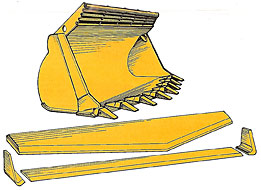 Loader


Bucket Edges
Weld-On or Bolt-On

Weld-On or Bolt-On For All Makes of Loaders


Standard or Custom Design
Spade Nose
Wrap-Around Ends
Heat Treated for Longer Life
Weld-On Corner Guards
Bolt-On and Weld-On Tood Adapters
---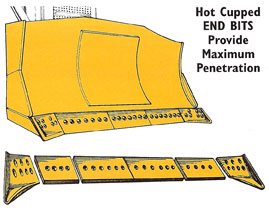 Dozer


Cutting Edges




Heat Treated, Through Hardened,
Quenched & Tempered Alloy Steel.
Complete range of thickness
in Standard and Heavy-Duty,
from 5/8" to 3"






For:


Caterpillar
Komatsu
International
Fiat Allis
John Deere
Case
Terex
---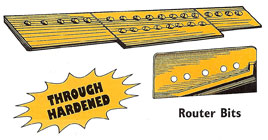 Scraper


Cutting Edges


Through-hardened alloy
Steel for standard or
heavy-duty applications;
straight or drop-center
configurations available in
thicknesses of 5/8" to 3"

For:


Caterpillar
Terex
Fiat Allis
International
Pull Scrapers
---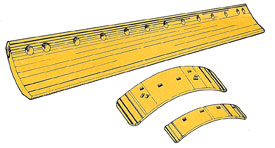 Grader


Cutting Edges

For All Makes and Models

Through Hardened and Standard Carbon Grader Blades

6" and 8" Double Beveled Curved
6" Single Beveled Curved
8" and 10" Double-Beveled Flat

Overlays and End Bits - Moldboard Liners - Scarifiers Shanks and Teeth
---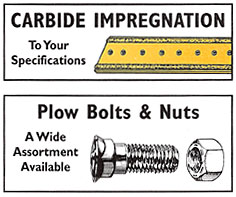 Excavator


Bucket Edges
Weld-On or Bolt-On

Standard or Serrated
Side Cutters
---
Custom Made Edges

To order a custom or obsolete cutting edge, fill in the values on the following form. Then print a copy and either mail, fax, or deliver in person to your closest location. Please note: dimensions given should reflect what the new edge needs to be, not what the old edge has worn down to. If you have questions, please feel free to contact one of our knowledgeable sales staff for help. Remember, edges built from a "Custom Made Edges" form cannot be returned, so please double check your dimensions before submitting.



Made In-House to Your Specifications
From Weld-On Back Hoe or Loader Edges
To that Old-Style Dozer or Scraper –
We Can Custom Fabricate It to Your Specs

How to Measure for A Custom Cutting Edge






Refer to the drawing above to specify the dimensions for your cutting edge



Double Check Your Measurements
Questions?
Call our experienced sales staff for a fast answer!

Order Toll-Free 1-800-862-4639